Displaying Two-Click Reminder in the System Tray
Under Windows 7, 8, or 10, it's much easier to use Two-Click Reminder if you pin it to the Taskbar, or make its icon always show up in the System Tray. The System Tray is an area on the bottom, right-hand corner of the screen which displays the clock and some programs icons. Two-Click Reminder installs an icon in this area when it's running. However, this icon is initially hidden. The following steps help you make sure the icon always displays.
1. Click on the up arrow at the left edge of the System Tray. (It displays a "Show hidden icons" tooltip when you hover over it.)
2. In the panel that shows up, click on Customize.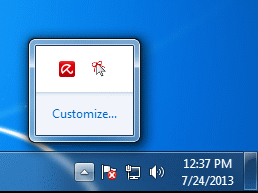 3.  Look for Two-Click Reminder's line on the screen that shows up.  (You may have to scroll down to find it.)

4.  Click on the pop-up menu and then click on the line that says "Show icon and notifications".
5. Click on the OK button.
Two-Click Reminder's icon is now visible on the System Tray. You can click on this icon at any time to bring up Two-Click Reminder.
Two-Click Reminder by itself
Bundled with Bitrot Detector (Save $4)
Copyright © 2020 Domador Software S.R.L.